Karen Williams
Karen had been in the business for 18 years when she decided to take her business to the next level with Mastery. She had been working 100% by referral, had not been focused at marketing outside of that, but was ready to and wanted to do it right. She had some background with some other, more generic, coaching programs, but just wasn't getting the individual help or custom materials she needed. She was also ready to dive into some research and become a go-to resource for her local area. She is very active, and really enjoys connecting with people - a skill we planned to hone with her.
The Plan
Karen had all the right stuff - attention to detail, she loved connecting, she takes a systems-based approach to her business. In addition to focusing on building campaigns for her past clients and database, she needed a campaign for her farm area. Her campaigns would need to include both eye-catching mail and live connections.
Her Brand
Karen already was using a logo element, a key, that she wanted to evolve with. We tightened up the logo, refined the color palette she wanted to use, and pulled the whole brand together with photo visuals and gradients.
Systems Built

Foundations
Foundations

Letterhead, Envelopes, Notecard, Calendar templates, and Trifold brochure

Property Marketing
Property Marketing

2- and 4-page house flyers, just listed cards, home book cover, special feature cards, Letters for Listings series, and more
Past Client Campaign
Past Client Campaign
Annual Client Review report and event materials

Database Campaign Materials
Database Campaign Materials

5.5 x 11 postcard, 8.5 x 11 flat postcard, and 8.5 x 11 foldover mailer

Listing Presentation System
Listing Presentation System

Listing Package, Pledge of Service, Presentation Boards, Experience Book, Pricing Tools, and more.
Open House System
Open House System
Amenities map, welcome sign, community datasheets, and tour of homes book for interested buyers.
Seniors Lead Generation Materials
Seniors Lead Generation Materials
For marketing to seniors and for working with them on their next step.
Buyer System
Buyer System
Tools for educating and setting buyer expectations.
Post-Closing Program
Post-Closing Program
Review Request Templates, Seasonal Maintenance Guide, Capital Gains Sheet

Website
Website

Custom built, hyper-local, mobile friendly, fully managed, and client focused.
Online Profiles Tune-Up
Online Profiles Tune-Up
Branded social media banners and performance tune-up.
Social Media Templates
Social Media Templates
Branded banners and tools for accompanying social media posts.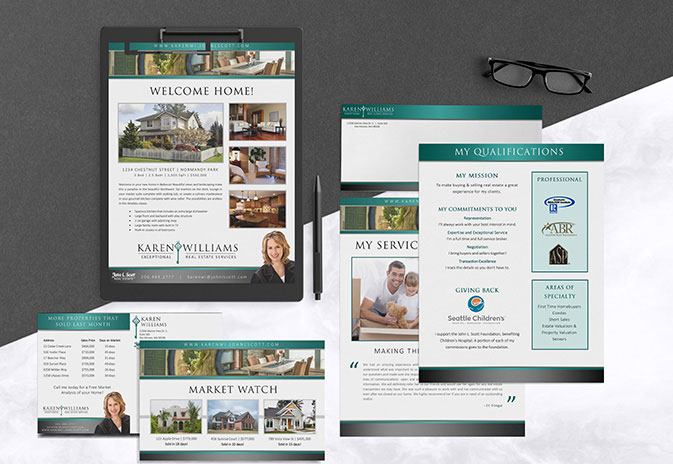 Results
Karen started working with us in May of 2015 and we began delivering her materials throughout 2015 and 2016.
Between 2016 and 2021, Karen increased her business by 83%, almost doubling the number of transactions and she increased her median sales price by 41% for listings.
In 2020, she had her first $1 Million sale. In 2021 she had 2 more.
In 2021, her target area comprised 50% of her listings. That is a lot less driving Karen needs to do!
From Karen
"My brokerage sends out a survey to clients after their transaction closes. There is a place for comments/testimonials. My office received a survey back today from a client with the following comment, 'I ran into one of the neighbors who said her marketing was better than any others they'd seen!'
"I'm pretty sure I know which neighbors they are. They loved my neighborhood board at the open house and the listing letter series. They then called me after the house sold with a question and in the conversation they told me they liked my marketing. Thanks Lones Group! I really appreciate all of you and everything you've done to help me with my business."